Sampford Courtenay Flower Show, 2019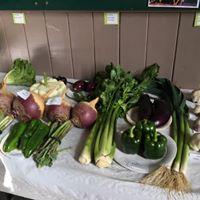 Flower Show 2019 Great Success!
A big "Thank You" to everyone who contributed in anyway to making this year's Flower and Veg Show a great success.
Over £700 was raised to split equally between the Village Hall and Defibrillator Fund.
Full list of Trophy Winners can be downloaded below.
There will be a meeting in early Spring 2020 to discuss any new classes or changes to classes for next year's show.
Sign up with your email address below to make sure you get notice of the meeting and lots of other interesting parish news direct to your email inbox.
Thanks again.