Sampford Courtenay and Honeychurch Flower, Produce and Craft Show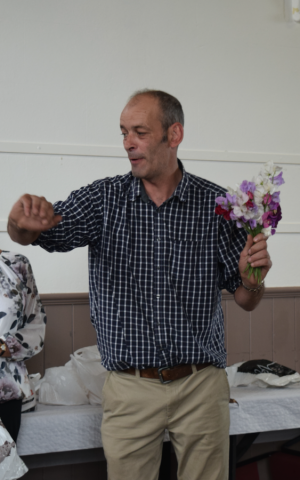 The village hall was full for this year's flower show, held on Saturday 19 August. Apart from the usual fruit, veg and flower categories, themes included a homemade 90th birthday card, a collage on an animal theme, a homemade holiday postcard and a mini-scarecrow.
A big THANK YOU from the organisers of the 2017 show, Marion Pratt and Bill Robertson, to everyone who exhibited and helped. Particular thanks must go to Sandra Harper and John Askew, who stood down from running the show after 17 years. Thanks also to our entertaining auctioneer, Robert Pyle. A grand total of £436.62 was raised this year and will be donated to the chosen charity, Sampford Courtenay Village Hall. You'll find photos of the event in the Gallery on this website. 
There were 460 entries by 39 exhibitors. Prizes were awarded as follows:
Piper Cup – vegetables: Bill Robertson
President's Cup – homecraft: Jeanette Baker
Hawking Bowl – fruit: Rod Levick
Flowers: Veronica Matthews
Produce: Veronica Matthews
Welcome Cup – first-time entrants: Felicity Sharpe
Leonard Horn Memorial Plate – longest runner bean: Bill Robertson
Dornaford Egg Cup – best eggs: David Wallis
Under 16 Shield: Chloe Baker
Under 12 Shield: Grace Bird
Under 8 Shield: Etta McBride
Christine Marsh Trophy – most points, children's section: Etta McBride
Children under 16 – first-time entrant: Grace Bird
Robertson Cup – best exhibit in show: Bill Robertson
Cleverdon Memorial Cup – overall points winner: Veronica Matthews
An open meeting will be held on Wednesday 11 October (see events calendar) to look at ideas for future shows. Keep an eye out here and on the village notice board for further details. Further information available from marion174@btinternet.com.