Come and join us
Have you ever read a good book and been dying to talk to somebody about it? Our group gives you an opportunity to discuss what excited, moved or annoyed you about a book in the relaxed and convivial atmosphere of Sampford Courtenay's New Inn.
You may find yourself reading books you wouldn't normally touch or recommending books that had an impact on you. It's a way of trying different authors and finding out how other people are affected by the books they read. Whichever book is chosen, it always provokes a lively discussion. 
So, if you want to stimulate your mind with interesting conversations, do join us at 7.30pm on the last Tuesday of each month at the New Inn. For further information, email Ishbel Gordon: ishgordon@live.co.uk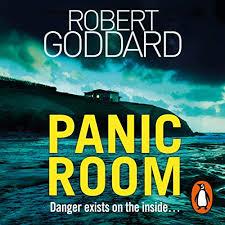 The choice for October is Panic Room by Robert Goddard.
WHAT REALLY LIES WITHIN?
High on a Cornish cliff sits a vast uninhabited mansion. Uninhabited except for Blake, a young woman of mysterious background, currently acting as housesitter.
The house has a panic room. Cunningly concealed, steel lined, impregnable – and apparently closed from within. Even Blake doesn't know it's there. She's too busy being on the run from life, from a story she thinks she's escaped.
But her remote existence is going to be threatened when people come looking for the house's owner, rogue pharma entrepreneur, Jack Harkness. Soon people with questionable motives will be asking Blake the sort of questions she can't – or won't - want to answer.
WILL THE PANIC ROOM EVER GIVE UP ITS SECRETS?