Come and join us
Have you ever read a good book and been dying to talk to somebody about it? Our group gives you an opportunity to discuss what excited, moved or annoyed you about a book in the relaxed and convivial atmosphere of Sampford Courtenay's New Inn.
You may find yourself reading books you wouldn't normally touch or recommending books that had an impact on you. It's a way of trying different authors and finding out how other people are affected by the books they read. Whichever book is chosen, it always provokes a lively discussion. 
So, if you want to stimulate your mind with interesting conversations, do join us at 7.30pm on the last Tuesday of each month at the New Inn. For further information, email Ishbel Gordon: ishgordon@live.co.uk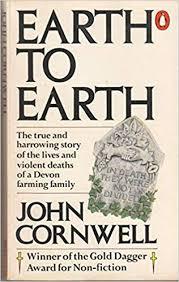 The choice for April is Earth to Earth, a true story, by John Cornwell.
In September 1975 the three remaining members of this Luxton family, a family who had lived on Dartmoor for six hundred years, were found shot in their remote farmhouse. Nobody else was involved in this gruesome lateral- thinking puzzle.
And so writer John Cornwell conducted his own inquiry.
This book is made all the more fascinating due to it's close proximity to Sampford Courtenay.