An Illustrated Talk about Mongolia and the Khazaks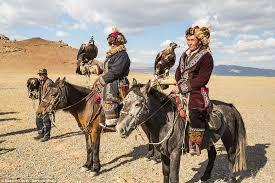 Mongolia - The Land of Chingiss Khan.
This journey will take us across an amazing landscape from the great Gobi desert and the pasture lands of the Steppe, finishing in the Altai Mountains. Meet the nomads of these regions and learn about their lives. Spend time with the Khazaks of the remote Altai Mountains who hunt with Golden Eagles and enjoy their special Eagle Festival. Mongolia is a land of huge horizons and endless skies, a land of remote and wild regions, its peoples living an ancient way of life in an ever emerging modern world.

At Sampford Courtenay Village Hall on Saturday 22nd February 2020 at 7.30pm.
Tickets £6.00 to include homemade soup and roll available from Nicky 01837 880300 or on the door.

Registered Charity Number 283279