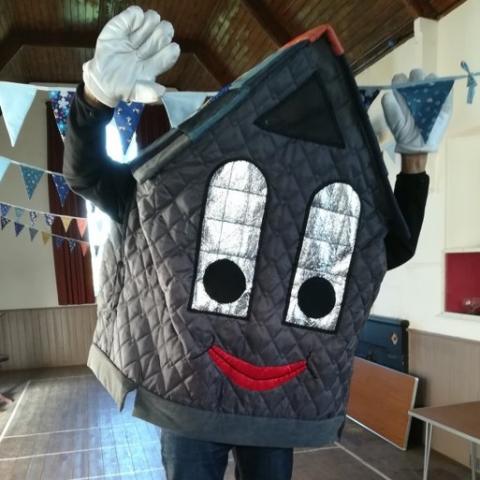 Roof-us Puts the Flags out to Celebrate another Fundraising Milestone.
Roof-us, the Sampford Courtenay Village Hall mascot, was on hand to celebrate the approach of a further fundraising milestone in the appeal to save the village hall.
Nearly £50.000 has now been raised through the hard work of a dedicated group of volunteers, who have organised a wide range of fundraising events during the recent Covid restrictions, as well as the generous support of individual local sponsors and parishioners. The last event "Roof Aid" was a great success and raised over £1,700 for the appeal.
The hall which was formerly the village school has been the centre of the community in Sampford Courtenay for many generations and there has been real concern that without urgent attention it could be lost for the future.
The first phase of the works has now been completed, the replacement of the large Victorian windows, but the appeal needs to raise a total of £150,000 for the complete works which includes replacement of the roof and insulation.
There is still a long way to go, and as well as planning a further list of community based activities and events, the Village Hall is also supporting applications to major charities and grant organisations to cover the next phase of works.
Roof-us is eager to hear from groups or individuals who would like to offer support with the fundraising. You can contact Roof-us directly by email davidbottingpage@hotmail.com or by calling the Roof-us hot line  01837 851725.
And the Flags?
These are now in the Village Hall and were made by a sewing group in the village, using left over material from the hospital scrubs that they made during the pandemic.