Defibrillator Fund Update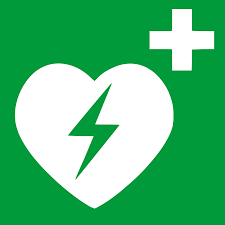 Defibrilator Fund Update
The Defibrillator Fund is building nicely.  Since we started we have collected donations from the Just giving page (which is still available if you wanted to donate money via https://www.justgiving.com/crowdfunding/sampfordcourtenayparishcouncil-scpc)
But we have also secured funding from funding streams to the Parish Council and fund raising events, including the Grumpies fish supper and the Sampford Courtenay Flower and Produce show.
Currently there is a healthy sum of £974 towards the total target sum of £2000.  Thank you to everyone that has helped to raise the money so far.
The next fund raising event supporting the appeal is the Wine Tasting on Saturday 21st September, the wines are chosen and the food now paired so get your tickets fast to avoid disappointment.
Use the link to get your place, for non wine gurus in your groups there is an alternative beer or non alcoholic drink and food pairings for your tickets please complete this form http://www.sampfordcourtenay-pc.gov.uk/sites/default/files/downloads/2019-08/wine-tasting-application-360958854.pdf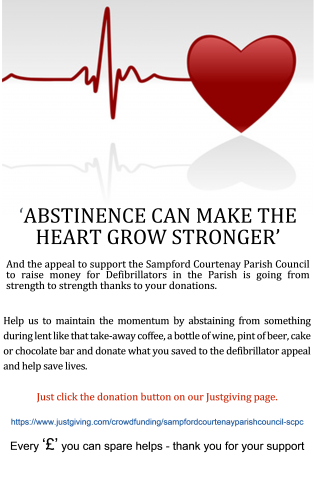 'Abstinence can make the heart grow stronger'
Well it can if you support the Sampford Courtenay Parish Council to raise money for Defibrillators in the Parish.
Why not help to raise funds by abstaining from something like that take-away coffee, a bottle of wine, pint of beer, cakes or chocolate bars and donate what you saved to the defibrillator appeal and help save lives. 
Just click the donation button on our Justgiving page.
https://www.justgiving.com/crowdfunding/sampfordcourtenayparishcouncil-scpc
Every '£' you can spare helps - thank you for your support