Operation Christmas Child Shoe Box Appeal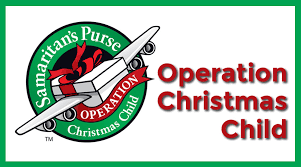 Operation Christmas Child is the world's largest Children's project, run by the Christian relief and development organisation Samaritan's Child.
This is your opportunity to make a special connection with a child overseas by giving a shoebox gift from your hands into theirs.  So wrap a medium sized shoebox and fill it with great little gifts. (Flat pack shoeboxes are available from Nicky Craig on 01837 889118 or from Lower Trecott). It is then sent overseas and distributed to children based on need, regardless of their background or religious belief.  It is an unconditional gift, asking for nothing in return.
Boxes need to be filled and left at St Andrew's Church, Sampford Courtenay in time for the 9.30am Family Service on 1st  November or at Lower Trecott.
Leaflets giving details of what can and what cannot be put into the boxes are in all four churches in the Benefice.  It is vital that you follow the instructions on the leaflet to avoid an otherwise great deal of time by volunteers sorting them out!  Certain things cannot be sent because of import and export regulations, most particularly this year no toothpaste or sweets, seeds, liquids including bubbles
Things to include;
Toys - a cuddly toy, truck, skipping rope. Yoyo, ball, puzzles, mouth organ, beach ball.
School supplies; pens, eraser, crayons, notebooks.
Hygiene items; toothbrush, wrapped soap, comb, hairbrush, flannel.
Other items; hat, gloves, scarf, sunglasses, jewellery sets, hair accessories.
A few Do's and Don'ts : 
Do's
Secure the box with 2 elastic bands - not ribbon or string

Remove the price tags

Make sure all gifts are brand new

Include a major toy

Indicate the age and gender of the child

Include £5 to cover delivery costs (Give online and follow your box to its destination)

Read the instructions
Don'ts
Cover the boxes right over after filling

Wrap contents individually

No scissors, toothpaste, sweets, liquids, toy guns etc

No clothes except hats, gloves, scarves

Only half fill the box

Thank you.