Halloween Pumpkin Trail and Supper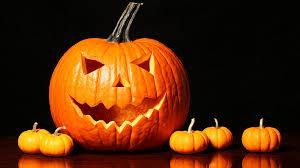 How about carving a pumpkin for Halloween?
We hope that as many residents as possible will do so and place the resulting lanterns on their gateposts or garden walls from dusk on Saturday 31st October.
We then invite you all to enjoy a gentle ramble (or a brisk walk - depending on how cold it is!) around the village to admire the fabulous creations.
Tickets (by advance booking) £5 (£2.50 for accompanied children under 12 in fancy dress).
The ticket price includes:
Soup and apple cake to take away, served between 5pm and 6pm at the village hall. (Please bring your own containers).
Entry into two cake competitions: a Halloween/autumn themed cake and/or an apple cake (to set recipe, see download below).
A raffle ticket.
A trail guide (by email).
There will also be a cake stall.
Please book by contacting Nicky Courage at nickyvhmc@gmail.com or call 01837 880300
We hope this will be a good opportunity for a low-risk, socially distanced enjoyable activity. Donations of cakes for the stall and raffle prizes would be extremely welcome
We are aware that not all residents receive emails. If you know of anyone who is not online, please could you tell them about this event so that they can join us?
Many thanks