Christmas Willow Workshop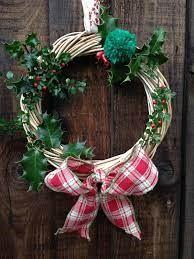 Wednesday 1st December - Sampford Courtenay Village Hall
Wednesday 1st December 2021 in the Village Hall
10.00 to 12.00 Workshop 1 – 8 places - FULLY BOOKED
13.00 to 15.00Workshop 2 – 8 places (if there is sufficient interest)
Come and make a Christmas willow wreath (similar to those shown, made during a previous workshop) and, if you have time, a Christmas willow 'plait' – suitable for window sills or to hang vertically on pillars, bannisters etc.
Willow will be provided but if you have some of your own and want to use that please bring it along. You MUST be able to bend it around your thigh (if not your wrist) without it breaking or splitting. If it does, it won't be flexible enough to do this work.
This workshop is suitable for everyone who can follow instructions, even if you're not particularly creative.
Willow is a natural material and it isn't always as flexible or co-operative as you want - it can be quite hard on the hands!
Please note that willow is a natural material, grown outside and you must wash your hands before eating anything after handling it.
You will need to bring: £10 for each workshop place if you need willow to be provided £5 for each workshop place if you're bringing your own willow (see below)
If you're bringing your own willow, you'll need:
Christmas Wreath: At least 6 lengths of flexible willow, each at least 1 metre in length and no thicker than the handle of a wooden spoon at the thick end (the 'butt end'!)
Christmas Plait: 3 lengths, as described above, longer if you've got it Everyone will need: Secateurs – a pair each, please. There won't be time to share!
Suitable clothing and 'closed' footwear.
Bring an apron if you want to
Additional foliage for your wreath and plait – please note that only the willow will be provided if you've told us you need it.
You might want to bring evergreens – holly, ivy, eucalyptus, bay etc are all great. Dried hydrangea flowers (and similar) can also be used, depending on the effect you want Christmas decorations, ribbons etc – Whatever takes your fancy to personalise your wreath and plait.
Please don't buy anything new, re-use whatever you've got from previous years! Garden twine – useful to tie in those bits that keep trying to escape!
Tea, coffee and mince pies.
More details or to book contact: secretaryvhsc@gmail.com