Roundabout North Tawton, Bondleigh, Sampford Courtenay, Honeychurch - and beyond!

May's edition of "Roundabout" (and perhaps for later months too ….) will not be delivered through your front door. Instead, you are asked to pick up a copy FROM either the STEPS OF THE TOWN HALL in NORTH TAWTON or the PORCH OF ST. ANDREW'S CHURCH in SAMPFORD COURTENAY or the PORCH OF ST. JAMES'S CHURCH in BONDLEIGH.

It will still be available here on the website.

The magazines will be there by 12 noon on Monday, 20th April.

Please, if you know of a neighbour who cannot leave home or open "Roundabout" on the website: www.northtawtonroundabout.com … and if it is safe for you to deliver a copy to someone else, do take an extra one.

If you can safely pass this information on to friends by word of mouth (keeping at a safe distance) or using social media, we shall be very grateful.

Rev. Nick Weldon, Hilary and Richard Edwards.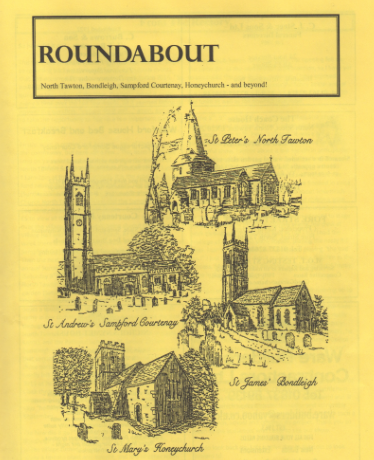 You can download the most recent issues of the parish magazine below.