Thanks and Recognition Certificates
Our first certificate has been awarded to the band of parishioners who helped with the Annual Spring Clean.
If you know someone who deserves a Certificate for work behind the scenes to make Sampford Courtenay such a lovely parish to live in. Please nominate them here.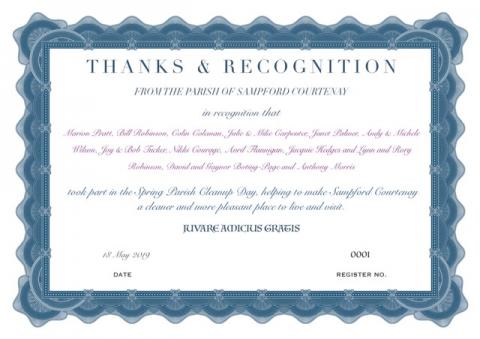 Certificate 1
Awarded to Marion Pratt, Bill Robertson, Colin Coleman, Julie & Mike Carpenter, Janet Palmer, Andy & Michele Wilson, Joy & Bob Tucker, Nikki Courage, Avril Flannigan, Jackie Hedges Lynn & Rory Robinson, David & Gaynor Boting Page and Anthony Morris.
For taking part in the Spring Parish Clean up Day helping to make Sampford Courtenay a cleaner and more pleasant place to live and visit.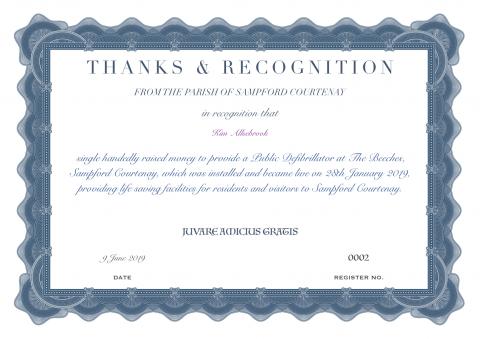 Certificate 2
Awarded to Kim Allsebrook
For single handedly raising money to provide a Public Defibrillator at The Beeches, Sampford Courteny, which was installed and became live on 28th January 2019, providing life saving facilities for residents and visitors to Sampford Courtenay.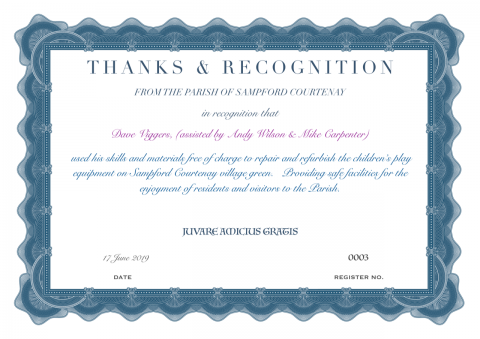 Certificate 3
Awarded to Dave Viggers
For using his skills and materials free of charge to repair and refurbish the children's play
equipment on Sampford Courtenay village green. Providing safe facilities for the
enjoyment of residents and visitors to the Parish.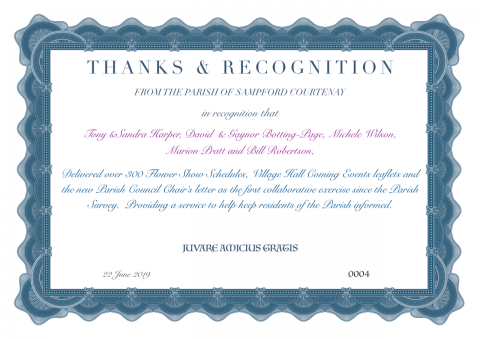 Certificate 4
Awarded to Tony and Sandra Harper, David and Gaynor Botting-Page, Michele Wilson, Marion Pratt and Bill Robinson.
For delivering over 300 Flower Show schedules, Village Hall Coming Events leaflet and the new Parish Council Chairs letter as the first collaborative exercise since the Parish Survey.
Providing a service to help keep residents of the parish informed.