Cycling around Sampford Courtenay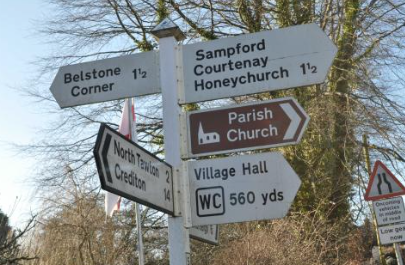 Cycling around Sampford Courtenay
Cycling around the parish is a great way to enjoy the area and the beautiful Devon countryside. Being a slower way to travel, it allows you to soak up the delights of the local scenery as well as covering a decent distance.
You can cycle anywhere in the Sampford Courtenay area by road or along cycling rights of way but here are a few locally recommended routes (maps tba):
Route 1: Honeychurch: links and loop the loop (14kms/9miles)
Route 2: Belstone Corner: Shoalgate circuit
Route 3: Tawgreen and Belstone Corner
Route 4: Sampford Chapel: Abbeyford Woods circuit
Route 5: Pedalling the bounds
These avoid the faster, busier roads and the hillier lanes. One or two routes stray into adjacent parishes but there's no passport control or ID card required as you criss-cross 'borders'! 
If you're inexperienced, its best to avoid the wider but busier A3072 and B3215 roads that traverse the parish area east to west but there's a multitude of lanes and byways in the area, with most of our local highway network comprising single-track lanes with passing places. There are many gateways to stop and linger awhile to admire the view. High hedges and limited verge space are common and some short climbs are unavoidable though, in compensation, offer the best panoramas on the way up and at the top. And naturally what goes up also goes down!
It's common sense but advisable to take a bottle of water, sustenance and maybe wet weather clothing with you, plus, bearing in mind mobile reception can't be guaranteed in every corner of the parish, a cycle pump and repair kit.