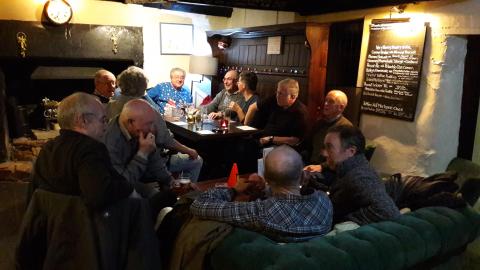 An introduction by Terry Bullworthy
The first thing to understand about the Sampford Courtenay Grumpies is that it is an informal gathering of local menfolk that convenes at the New Inn on a Thursday evening to enjoy each other's company for an hour and a half. There is no hierarchy, no membership or restriction as to who comes and sits with us – and no rules as such. You don't even have to be grumpy! There are a couple of understandings though. One is that we always kick off at 6pm and the other is that you are not obliged to buy any other Grumpy a drink. 
So, accepting that The Grumpies is a structureless group, does it work? Well, in 2003, it was just six guys who got together and now up to 24 could make an appearance. There is an eclectic mix of personalities and backgrounds, which makes for variety in opinions and conversation, but, interestingly, hasn't resulted in any cliques. Inevitably, there is banter and leg-pulling and the usual noisiness to be expected when a group of men get together.
Prior to the current landlord, the fortunes of the New Inn were not good for several years. Despite that, The Grumpies always appeared on Thursday evenings, providing support for the pub in a difficult period – even when management was not always friendly. Nowadays it is different, with the landlord also a Grumpy and one of the staff giving us our titular name. A place is always allocated for us every Thursday night, even though it must cost them in covers when we have a large turnout. However, the pub's unswerving support has been repaid by asking them to host over 30 special group dinners as well as a now annual tomato competition. 
Some of our current Grumpies are folk who have moved into the locality in recent years. Having found out about our existence and been encouraged to come along, they have enjoyed almost immediate access to the local community and quickly developed strong friendships. Quite valuable benefits if you are new to an area.
It might take a sociological study to completely understand why The Grumpies has been a success. In essence, the group exists for no other objective than fellowship but that, it appears, is enough to make it work. Quite unintentionally, we seem to have become a local institution.
Email me for more information: t.bullworthy@btinternet.com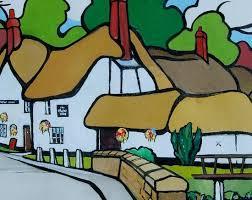 The Grumpies have been doing their bit to help promote the New Inn Take Away Service during the Coronavirus.
Have a look at their video on this link:-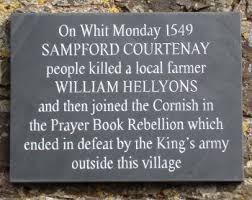 Grumpies Summer Event - Prayer Book Rebellion
During the summer of 2019 the Grumpies held their annual get together and were treated a performance by the renowned Rob Brown on the end of the Prayer Book Rebillion in Sampford Courtenay on the 17th August 1549, held at Langdale over looking the main battle site.
Please click the link below to view the video.