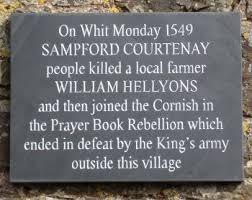 A very successful meeting took place on Thursday 1st June 2023, at which images from the Event held to mark the 450th Anniversary in 1999 were viewed and lots of  ideas  were suggested from the Community for an Event in June 2024 on the 475th Anniversary.
A Summary of the suggestions so far can be downloaded below.
If you would still like to get involved or have some suggestions to make
 Please leave your details on. 01837 851725 or email davidbottingpage@hotmail.com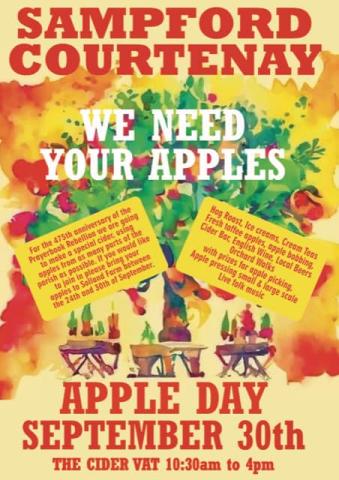 APPLE DAY - SEPTEMBER 30TH - THE CIDER VAT - 10.30AM - 4PM
475TH PRAYER BOOK REBELLION EVENT
- A chance for your surplus apples to become part of a special "rebellion" cider for next year's event. Drop any surplus apples at The Cider VAT between 24th -30th September to be pressed and turned into cider.
- 30th SEPTEMBER - APPLE DAY at the CIDER VAT - come and celebrate from 10.30 am - 4pm with …..
- Hog Roast
- Ice Cream
- Cream Teas
- Toffee Apples
- Apple Bobbing
- Orchard Walks
- Apple Picking - (with prizes)
- Apple Pressing - (large and small)
- PLUS sample local beers, wines and ciders while listening to
LIVE FOLK MUSIC!